Member Communications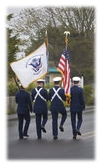 Auxiliary Learning Management System (AUXLMS) - AUXLMS Impact on Auxiliary Mandated Training (MT) Requirements: The purpose of MT is to build awareness and enhance the knowledge, skills, abilities, and attitudes of the Coast Guard's workforce. All other elements of the Coast Guard workforce have MT requirements, generally more extensive than those for Auxiliarists. MT cannot be taken lightly, and it is not unreasonable to expect in the future that Coast Guard Order Issuing Authorities will expect Auxiliarists to be current in MT requirements before making assignments to duty. With the advent of the AUXLMS, the bridge that allows automatic recording of successful MT course completion into AUXDATA has been built. The Auxiliary MT requirements established in section 8.E. of the Coast Guard Auxiliary Manual (COMDTINST M16790.1 series) are now in effect.

Notably:

Auxiliarists must successfully complete the following MT only once (new members shall complete them during their first year of enrollment):

Ethics 1 / Personal Gifts - course code 502306
Influenza Training - course code 502290

Auxiliarists must successfully complete the above MT courses during their first year of enrollment and then once every five years thereafter the below listed courses:

DHS Together - Resilience Training - course code 502379 Security Education and Training Awareness (SETA) - course code 810030
Privacy at DHS / Protecting Personal Information - course code 810015
Sexual Harassment Prevention - course code 810000
Sexual Assault Prevention and Response - course code 810045

Enrolled Auxiliarists now have until 31 December 2016 to complete all seven of the MT courses listed above. As each of the first five courses listed above is completed, its own five-year cycle will start. Each cycle will extend to 31 December of the fifth year regardless of the date the course was completed during the year, and so on. For example, if an Auxiliarist completes the DHS Together - Resilience Training course on 15 November 2013, then he/she will have to complete it again by 31 December 2018.
New Member Training - Quick link to New Member Training.
New Member BQ II Training - Quick link to New Member BQ II Training.
Flotilla 4-4 Staff Officers - Quick link to Flotilla 4-4's staff officers.
Online tests for the ICS 100, 700, 200, 800 - A quick reference to FEMA online tests.
U.S. Power Boating - A website with information for any interested boater!
NTSB - Marine - The NTSB investigates major marine accidents on navigable waters of the United States, involving U.S. merchant vessels in international waters, and collisions involving U.S. public and nonpublic vessels. In addition, it investigates selected marine accidents that involve public transportation or those of a recurring nature. It is also a good source for safety alerts.
Proceedings - The Coast Guard Proceedings is "The Journal of Safety & Security at Sea". Each edition of Proceedings – typically 80 to 100 pages – features a specific theme and is championed by a Coast Guard office, assigned based on the command's expertise in that area. The present issue and back issues can be viewed free online. Readers may subscribe free of charge to a paper edition or download the magazine in pdf format online.