Member Communications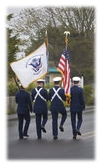 Auxiliary Core Training (AUXCT) - AUXCT Replaces AUXMT: Pursuant to provisions of 14 U.S. Code § 831 which deals with Coast Guard Auxiliarists' assignment and performance of duties, the Coast Guard is required to ensure that its Auxiliarists are appropriately trained, tested, and found competent before they can be assigned to duty. Over the past few years, the Coast Guard has required Auxiliarists to complete a battery of specified training courses to impart a minimum baseline of organizational familiarity and expectation in support of this requirement. This has been comparable to the placement of similar requirements on all other Coast Guard active duty, reserve, and civilian personnel. The value of this training has formed the core of every Auxiliarist's pledge and commitment to support the Coast Guard and abide by its governing policies. Based upon the insight and advocacy of Auxiliary leadership at national and district levels, this training shall hereafter be referred to as Auxiliary Core Training (AUXCT) in lieu of Auxiliary Mandated Training (AUXMT). Appropriate changes to AUXDATA, the Auxiliary Learning Management System (AUXLMS), and related training materials to reflect this training program title change have begun.
To take the Mandated Training tests, please go to the below link, "Auxiliary Learning Management System (AUXLMS). You cannot access AUXLMS from AUXCT. This is just information on the change from AUXMT to AUXCT.
Auxiliary Learning Management System (AUXLMS) - Link other Auxiliary courses - currently listing older mandatory courses.
New Member Training - Quick link to New Member Training.
New Member BQ II Training - Quick link to New Member BQ II Training.
Flotilla 4-4 Staff Officers - Quick link to Flotilla 4-4's staff officers.
Online tests for the ICS 100, 700, 200, 800 - A quick reference to FEMA online tests.
U.S. Power Boating - A website with information for any interested boater!
NTSB - Marine - The NTSB investigates major marine accidents on navigable waters of the United States, involving U.S. merchant vessels in international waters, and collisions involving U.S. public and nonpublic vessels. In addition, it investigates selected marine accidents that involve public transportation or those of a recurring nature. It is also a good source for safety alerts.
Proceedings - The Coast Guard Proceedings is "The Journal of Safety & Security at Sea". Each edition of Proceedings – typically 80 to 100 pages – features a specific theme and is championed by a Coast Guard office, assigned based on the command's expertise in that area. The present issue and back issues can be viewed free online. Readers may subscribe free of charge to a paper edition or download the magazine in pdf format online.